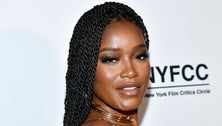 Keke Palmer has dropped a trailer for an upcoming documentary she directed titled "Large Boss."
On Tuesday, the actor shared the trailer in an Instagram post, writing that the documentary is a "musical narrative that chronicles my enjoy within the song business."
"I will't look forward to you guys to look at the movie and listen to the album," the actor stated. She is ready to unencumber the documentary, and an accompanying album, this month.
The "Large Boss" trailer options clips of Palmer as a kid all over her adventure pursuing a occupation in song, TV and picture.
"I don't want to be accredited by way of the cool children…" Palmer says in a voiceover within the trailer prior to including, "I simply want to be accredited by way of me."
Palmer told British Vogue in July 2022 that the documentary would mark her directorial debut. She additionally described the album as "a number of other vibes."
The Emmy winner has had a longstanding performing occupation, along with her leap forward function at age 12 in 2006′s "Akeelah and the Bee." She could also be a celebrated song artist, liberating her debut album, "So Uncool," in 2007.
Palmer paid tribute to her debut album final yr by way of recreating "Bottoms Up," a monitor off the album. "Bottoms Up 2.0″ was once a "amusing little go back and forth down reminiscence lane," the actor told Nylon in April 2022.
"I entered the song business at a tender age and had the chance to write down a track with my sister for my first album, 'So Uncool,'" she stated. "It was once a track that the OG lovers liked. They nonetheless sing it to me anyplace I am going, tag me within the dances they devise to it on social media, and upload it to all their throwback playlists. So, I thank them!"