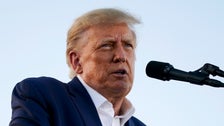 Former President Donald Trump mocked his attainable 2024 Republican challenger — Florida Gov. Ron DeSantis — for drawing near him "with tears in his eyes" as he sought an endorsement in his state's 2018 gubernatorial election.
The previous president, who described himself as a "loyalist," told supporters on Saturday in Waco, Texas, that an emotional DeSantis had deficient polling numbers earlier than he requested for an endorsement within the 2018 Florida governor's race.
He later broke out a whiny, begging-like impact of DeSantis' request.
"[He said,] 'Sir, if you happen to endorse me, I'll win. Please, please sir, endorse me.' And I stated, 'All proper, let's give it a shot,'" Trump advised supporters.