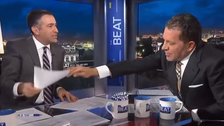 Joe Tacopina, a attorney for former President Donald Trump, attempted to grasp a work of paper from MSNBC's Ari Melber all the way through an interview Tuesday.
The instant got here because the duo used to be discussing Trump's declare not to find out about hush cash bills paid to grownup actor Stormy Daniels following their alleged affair.
"That's no longer a lie?" Melber requested Tacopina.
"Right here's why that's no longer a lie," the lawyer started to give an explanation for.
Melber picked up a work of paper containing Trump's denial.
Tacopina attempted to take hold of the file.
"May just you place the paper down, put the paper down, we don't want that," he advised Melber.
Melber held company and moved the paper away, later posting one phrase concerning the change on Twitter: "Interviews."